Artichoke Bisque with Parsley-Lemon Gremolata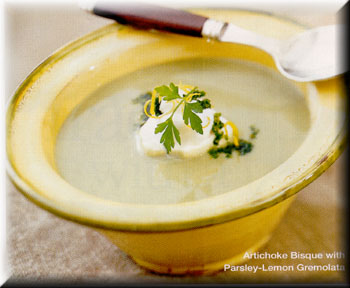 Prep and cook time: About 50 min. Makes 6 to 8 servings

2 tablespoons butter or margarine
1 Onion (8oz) peeled and chopped
3 tablespoons all-purpose flour
6 cups fat-skimmed chicken broth or vegetable broth
3 packages (8oz each) frozen artichoke hearts
1/2 teaspoon dried tarragon
sour cream for decoration along with Parsley-Lemon Gremolata (Recipe follows)
Salt and white or black Pepper to taste
In a 4-to 5-quart pan over medium heat, melt butter. Add onion and stir often until golden, 7 - 10 minutes
Add flour and stir to coat onion. Add broth, artichoke hearts, and tarragon; stir until mixture boils and thickens, 15 to 20 min.
In a blender, holding lid down with a towel, whirl misture in batches until smooth; pour into a large bowl.
Return soup to pan and stir over low heat until hot. Ladle into bowls and garnish with spoonfuls of whipped cream or sour cream (I used sour cream) and Parsley-Lemon Gremolata. Add salt and pepper to taste
Parsley-Lemon Gremolata
In a food processor, whirl 1 cup coarsely chopped Italian or regular parsley, 3 tablespoons olive oil, 2 teaspoons grated lemon peel, 1 peeled clove garlic, and 1/2 teaspoon pepper
until finely chopped.
decorate that mixture to spoon on top of each individual soup plate draped over a small teaspoon of sour cream or whip cream (see picture)


Broccolli Cassaroleclick on this link: http://recipecircus.com/recipes/LC_4_ME/VEGETABLES/Broccoli_Cassarole.html




Sour-Cherry Cream Pieclick on this link: Sour-Cherry Cream Pie


Broccolli Salad

By Ann Walker

4 stocks of broccolli
1/2 cup celery
3/4 cup raisins soaked in warm water
8 slices of bacon (copped)
1 1/2 cups dry roasted peanuts
You can prepare broccoli (coppped but not to fine), celery, and bacon a day ahead . Next day (1 hr before you eat, mix other items to salad plus dressing.
Dressing for Broccolli Salad
1 cup Mayo
1/2 cup sugar
2 Tablespoons of Wine vinegar
1/4 tsp. curry powder
Mix dressing and pour over prepared Broccolli salad


Broccoli Salad

by Margie, Melbihess
1- 3 oz.pkg. Chicken Ramen
1-16 oz. broccoli slaw
2c slices green onions
1 1/2 c. broccoli floweret's
1-6 oz.can black olives, halved
1c. sunflower seeds, toasted(they come toasted)
1/2 c. slivered almonds (optional)
1/2 c. sugar
1/2 c. cider vinegar
1/2 c. olive, or reg. oil
method:
Crush ramen noodles+ put in bottom of bowl
Add slaw, brocc. floweret's,olives,sunflower seeds,almonds.
In jar with tight fitting lid, add vinegar,oil, seasoning package from ramen+ sugar, shake well.
Add to salad.
Is very good also the next day. A great salad to bring to luncheons.

Mashed Potatoes (you can prepare this one day ahead)
1 small (3oz) cream cheese, at room temperature
1 teaspoon garlic salt (I use garlic powder and pour to taste)
1/4 teaspoon pepper and Salt (pour to taste, and also use salt)
1/2 cup sour cream
2 1/2 to 3 lbs Russet potatoes, peeled and quarter (you can also use red potatoes and leave the peeling on
2 tablespoons butter or margarine (to taste)
Put the 1st four ingredients together and beat. Boil your potatoes and mash with butter and add the other ingredients and mix. Pour in greased 2 qt. casserole, refrigerate overnight. Next day bake covered in 400 degree oven for 25 min. and serve. I also add some chopped green onions but that is up to you.


Poulet De Broccoli
(a "Steinbeck House Recipe")
8 raw, skinned, boned chicken breast
8 parboiled spears fresh broccoli
Barely cook broccoli spears. (Slash stems for more even cooking)
Put in a buttered casserole or ramekin and top with raw chicken breast.

cover with a mixture of:
2 cans cream of chicken soup
1 cup mayonnaise
1 tsp. lemon juice
1/2 tsp. curry powder
cover sauce with: 1 1/2 cups sharp cheddar cheese
Top with: 1 1/2 cups soft bread cubes 1/4 cup Parmesan cheese.
Bake 30 minutes at 350 degrees. Serves 8.

Wendy Peterson's Hoisin Baby Back Ribs

"This family dish, passed down to Wendy by her mother, is a real crowd-pleaser".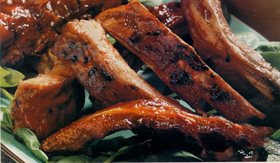 5 pounds baby back ribs
2-inch piece of fresh ginger, sliced, plus 1 teaspoon grated fresh ginger
1 cup sugar
1 cup ketchup
1/2 cup soy sauce
1/2 cup oyster sauce
1/3 cup hoisin sauce
1 clove garlic, crushed
3 tablespoons sake
Cilantro for garnish
Cut racks into individual ribs. Place in a large pot and cover with water. Add slices of ginger. Boil gently 1 to 1.5 hours. Drain ribs, discarding ginger.
Combine sugar, ketchup, soy sauce, oyster sauce, hoisin sauce, grated ginger, garlic and sake. marinate the cooked ribs in this mixture 4-5 hours in the refrigerator.
Preheat broiler (or BBQ). Place ribs in roasting pan and broil 15 min., turning if necessary.
Garnish with sprigs of cilantro (optional)

Campbell's Green Bean Casserole

Prep Time: 10 min. Cook Time: 30 min

1 can (10 3/4 oz) Campbell's Cream of Mushroom or 98% Fat Free Cream of Mushroom Soup.4eam
1/2 cup milk
1 tsp soy sauce
Dash pepper
4 cups cooked cut green beans
1 1/3 cups French's French Fried Onions


Mix soup, milk, soy, pepper, beans and 2/3 cup onions in 1 1/2-qt casserole.
Bake at 350F. for 25 min. or until hot
Stir. sprinkle with remaining onions. Bake 5 min. Serves 6.

Dayle Raynors Lime/Cheese Jello (given to me by Nancy Caswell 7-4-2007)
1 package lime Jello
1 cup water
1 20-ounce can crushed pineapple
1 8-ounce container cool whip
1 8-ounce package cream cheese
3/4 cup sugar
2 beaten eggs
1 tablespoon lemon juice
2 tablespoons cornstarch

Dissolve jello in 1 cup boiling water
Add drained crushed pineapple - save juice
Pour into 9x13 glass dish and allow to set
Whip cool whip and cream cheese - spread over set jello
Cook until thick - 1 cup pineapple juice - sugar - beaten eggs - lemon juice and cornstarch and cool.
Spread over jello and top with grated cheddar cheese

Poppy Seed Dressing

3/4 c. Mayonnaise
1/2 c sugar
2 T. vinegar
1/4 c milk
2 tsp. poppy seed


Mix dressing ingredients ahead and store in refrigerator.
Better if it sits over night. Mix lettuce, fresh strawberries
and sliced onions. Mix salad and dressing together
just before serving. If mixed too far ahead,
lettuce becomes soggy.